Welcome back to our blog series: Employee Spotlights! MetrumRG values our employees as both team members and individuals. This series features new employees each month and provides professional and personal insight, so we can celebrate our individuality and commonalities.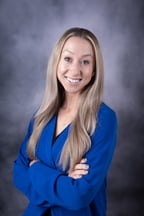 This month we highlight
Gabriella Farrick.
Gabriella, who goes by Gabby, joined MetrumRG in November 2020 as a Client Relationship Coordinator (CRC). Gabby facilitates contract negotiations and acts as a liaison between MetrumRG scientists and clients during the proposal process. She also partners with leadership and project management teams to ensure tasks are appropriately resourced for timely delivery and the utmost satisfaction for MetrumRG's clientele.
What do you like most about working at MetrumRG?
Nearly impossible to pick just one thing! The incredible people I get the pleasure and privilege of working with. I'm grateful to be part of such an amazing company with a truly compassionate and genuine vision.
What TV show are you currently watching?
Not really a big TV person at all. Fun fact….I lived without one for a year, and when I'm someplace that has one, it's nearly never on! I'll stream Netflix for a little bit from time to time, "The Great British Baking Show" and "Feeding Phil" are two of my "go-to" faves. I just started the "Down to Earth" Documentary series that came out in 2020 and am enjoying that. Stanley Tucci has a great documentary called "Searching for Italy" 2-part series on CNN. I gravitate towards anything travel/food related/culturally educational. I'm also a sucker for the cute Christmas Hallmark type movies. They generally aren't in the running for any Academy Awards…. but they are lighthearted and uplifting… and who couldn't use more of that?! :)
What is your top bucket list item (if you have one)? Have you completed it?
I'm not sure if this is my top one, but it seems like a fairly realistic one. Apparently there is a fancy restaurant that rotates (very slowly) at the top of the Seattle Space Needle. I'd LOVE to do that and spend some time exploring Seattle. I would also love to do an Alaskan cruise, and go to Hawaii, and hopefully make it back to Italy one day.
What is your favorite food?
Depends on if I'm eating in or out. At home, fish/veggies, especially on the grill! If I'm dining out, I go for things I can't get at home… Sushi, Thai, Vietnamese, or very intricate "Tapas". I love trying new things…. As long as it's not still moving or blinking at me, I'll give it a go!
Do you have any pets? Feel free to tell us about them.
My Fur Baby Brady! All black, little 5lb "Malshi" - (Maltese Shih Tzu) She will be 7 this Christmas Eve, she's been through SO much with me since I got here, she's my girl! Brady feels like my dependent variable, I just love and adore her to pieces, an absolute blessing! Can't really remember life before her.
What Gabby's colleagues say about her:
"Gabby has been a great addition to the CRC team at MetrumRG. Gabby and the CRC team play a critical role at MetrumRG as they are often the main contact between MetrumRG and the customer prior to the formal start of a project. Her enthusiasm and attention to detail make her great at her job and a pleasure to work with." --Bill Knebel