Welcome back to our blog series: Employee Spotlights! MetrumRG values our employees as both team members and individuals. This series features new employees each month and provides professional and personal insight, so we can celebrate our individuality and commonalities.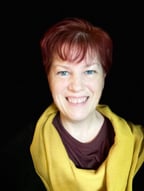 This month we highlight Heather Demers
.
Heather joined MetrumRG in 2020 as an executive assistant. Heather provides high-level administrative support for the whole executive team. She implements solutions to increase efficiency of executive team functions, manages expense reports and reimbursements, performs clerical tasks such as drafting memos, invoices, and reports, and more! Heather's strong communication skills in addition to effective problem solving skills equip her for the evolving demands of this position.
What do you like most about working at MetrumRG?
I love the focus on our culture and how much each individual team member is valued. It all plays into the importance of MetrumRG's mission and how much we all believe in what we are doing here. Working with a team who is passionate about their work makes every day fulfilling, and everyone's contributions matter.
What is your top bucket list item (if you have one)? Have you completed it?
I feel like I'm always adding to my bucket list as I go through experiences in life that I never thought I would have. For example, I recently went on a whitewater rafting excursion planned by my and my husband's group of friends. This was something I never would have considered doing, since I don't swim well and I am deathly afraid of drowning. However, I faced my fear and did it anyway. I would say that my biggest bucket list item is facing my fears, and I am doing that all the time! I've found that to be the best way for me to grow, live a full life, and feel more enriched.
Do you have a favorite quote? If so, what is it?
The last question leads me to this one - my favorite quote that I have come across is by psychologist Abraham Maslow "One can choose to go back toward safety or forward toward growth. Growth must be chosen again and again; fear must be overcome again and again."
What did you want to be when you were a child?
At a young age I wanted to be a teacher. I always admired their kindness, patience, encouraging demeanor, and knowledge. While that is not the path I took in my career, I did have a small side practice for a short time practicing and teaching Reiki, meditation, and energy work. I also get the opportunity to experience the teaching career and what it is like to influence and develop young minds through my daughter, who will be graduating this year as a music teacher.
What TV show are you currently watching?
I'm always up for a re-run of Dr. Who or the original Star Trek series. For new shows, we are currently watching "Wednesday", a spinoff from The Addams Family. It is a mystery-solving series, and I love guessing "who dunit"!!
What Heather's colleagues say about her:
"Over the last two years, Heather has become someone I depend on to keep me organized and focused. She brings a calm and consistent energy to somewhat chaotic situations. She artfully constructs plans, anticipating needs and changes ahead of time and is thoughtful in her approach to completing her tasks. Her eagerness to take on new responsibilities is a clear demonstration of her commitment to being a team player. I consider myself fortunate to be a recipient of her gifts and talents." --Michelle Johnson, CEO.