Welcome to the second edition of our new blog series: Employee Spotlights! MetrumRG values our employees as both team members and individuals. This series features new employees each month and provides professional and personal insight, so we can celebrate our individuality and commonalities.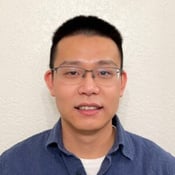 This month we highlight
Shen Cheng, Ph.D.
Shen joined the MetrumRG team in January 2022 as a Research Associate II. Excelling in that role, he was recently promoted to Research Scientist I. As a Research Scientist, Shen contributes to modeling and simulation analyses to support biomedical decision-making.
What do you like most about working at MetrumRG?
The people at MetrumRG are very knowledgeable, approachable, and always willing to help each other. I am also passionate about the vision of our company that integrates quantitative approaches to develop therapies that defeat diseases.
Which of MetrumRG's core values is most important to you?
Open science. I always appreciate the way our company disseminates science. It's a great pleasure to be part of that.
What do you like to do in your free time?
I enjoy biking in the summer and learning to snowboard in the winter.
What is your favorite food or beverage?
My favorite beer is Sapporo.
Do you have any pets? Feel free to tell us about them.
My girlfriend Yuting and I recently adopted a cat named Poke. We named him after poke bowls, a food we enjoy. He is 10-months-old now. He likes to jump around my table while I am on zoom calls. I think he must be interested in modeling, too!
What Shen's colleagues say about him:
"Shen takes the initiative with all aspects of his project work. He repeatedly demonstrates a strong foundational knowledge of pharmacometrics and a commitment to high-quality production level work. We're excited to see Shen continue to develop as a modeling scientist." -Curtis Johnston