MetrumRG is pleased to welcome Ted Gilbert as our Quality Director, reporting to Heidi Seaborg, our Senior Director of Compliance and Contracts.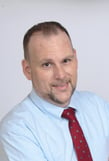 In his new role, Ted will be responsible for developing and executing the strategy for our quality assurance (QA) program. In addition, he will oversee MetrumRG's quality management system to ensure compliance with our standard operating procedures, good practice quality guidance (GXP), and regulatory requirements.
"Our client relationships are built on a foundation where our scientific expertise and technology are matched with a rigorous commitment to quality and standards," Seaborg said. "Ted's background and strong track record with quality assurance and compliance will allow us to deepen that commitment. He will be an important addition to our team and our culture."
Ted joins MetrumRG from Anju Life Sciences in Fort Lauderdale, FL, where he was Senior Director of Quality and Compliance, Clinical Division. At Anju, he rebuilt the company's QA program and hosted more than 40 client audits each year, building trust with customer QA groups and reducing overall audit findings by half.
Ted earned a Bachelor of Science in biology from Delaware Valley College in Doylestown, Penn., and a Master of Business Administration in finance from LaSalle University in Philadelphia. He is a Certified Manager of Quality/Operational Excellence from the American Society for Quality and holds a Project Management Certification from the Project Management Institute.
Subscribe to the MetrumRG newsletter to receive the latest news about the team and their work!