Introduction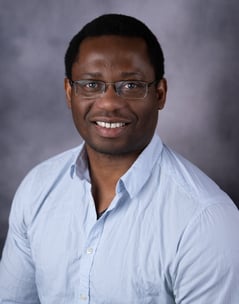 Allow us to shine the spotlight on Uchenna Emechebe, one of our exceptional Scientific Project Managers at MetrumRG, whose journey spans across continents and is fueled by a deep commitment to collaboration and lifelong learning. Originally from Nigeria, Uchenna brings a unique perspective, vibrant personality, and rich cultural background to our collaborative environment.
Academic Pursuits and Global Perspective
Uchenna's academic journey began at Nnamdi Azikiwe University in Awka, Anambra, where he earned his undergraduate degree. His thirst for knowledge then led him to the United States, where he pursued and achieved his Ph.D. at the University of Utah School of Medicine. During this time, he immersed himself in the world of medical research and made significant contributions to the field of neurobiology and anatomy.
As a postdoctoral fellow at Oregon Health & Science University, Uchenna delved deeper into the intricacies of vascular biology, making groundbreaking discoveries that advanced scientific understanding. His work in Molecular Biology included animal and culture models with particular expertise in flow cytometry and genomic data analysis. His scientific experience helps drive innovative solutions within our projects at MetrumRG, benefitting our clients and the broader community.
Empowering Collaboration and Volunteerism
Beyond his professional achievements, Uchenna's heart lies in volunteer work, and he selflessly dedicates his time and expertise to the Oregon Museum of Science and Industry (OMSI). Uchenna volunteers as an OMSI "Meet a Scientist" participant, where he engages with visitors, introducing them to the science projects he's involved in. Through these contributions, he inspires the next generation of scientists, igniting a passion for discovery and inquiry in young minds.
Uchenna's journey to MetrumRG has been a testament to his dedication to collaboration. Embracing the opportunity to work in a dynamic and diverse environment, he fosters a sense of togetherness and shared purpose among our teams, ultimately enriching the value we deliver to our clients.
Authenticity, Well-Being, and Inspiration
Uchenna's authenticity and warmth shine through in his interactions, creating an atmosphere of trust and mutual respect among his colleagues. His favorite quote, "Be yourself. Everyone else is taken," reflects not only his individuality but also his belief in empowering others to do the same.
Uchenna also has a love for music and enjoys running.
What Others Say About Uchenna
"We are incredibly fortunate to have Uchenna as a vital member of our team at MetrumRG. The role of Scientific Project Manager is innovative and as such requires constant adaptation. Uchenna's humility and enthusiasm for learning, combined with his deep and relevant science background, are a natural fit to our Quantitative Science teams. His presence has an immediate and positive impact on those around him."
Joe Pliss, M.B.A., Director of Project Management, Science
We celebrate Uchenna's remarkable journey and his contributions as a member of the MetrumRG team. We also acknowledge his dedication to academic pursuits and volunteer work, making the world a better place for all.