This month, we're shining our employee spotlight on Darrell (DJ) Breedan, our Director, Software Engineering. We invite you to get to know more about DJ and his journey at MetrumRG.
With over a decade of experience as an infrastructure engineer, DJ joined MetrumRG in September 2019. Previously, he worked in and managed environments ranging from just a few to 2500 physical servers, their virtualization layers, networking, and more. Currently, DJ manages the software development team responsible for the Metworx platform and its associated tooling.
Darrell (DJ) Breedan
MetrumRG Strong
What do you like most about working at MetrumRG?
"The people here are very much like family. Before joining MetrumRG, I worked at large corporations and internet service providers. In those types of environments, it's easy to feel like a cog in the machinery. The environment here at MetrumRG is the complete antithesis of that."
Which one of our core values is the most important to you?
"Service, without a doubt! Whether it's serving internal or external customers, it's easy to lose track of how important that work is at most companies. At MetrumRG, it's easy to step back and realize that the work you're doing is in the benefit of defeating disease. It may be indirect, but you're still making a difference."
Tell Us About You
What is your workout of choice?
"Cycling is my workout of choice but it's more than just a workout – it's my passion! In my spare time – besides raising three kids – I spend time training for fitness events such as the upcoming Regional USA Cycling Time Trials in May. Additionally, I use my love of cycling to help raise awareness and funding for diseases by participating in various local and regional events. Some of these include the New Bern Century – a Bike MS event, and the Raven Rock Ramble for the American Cancer Society."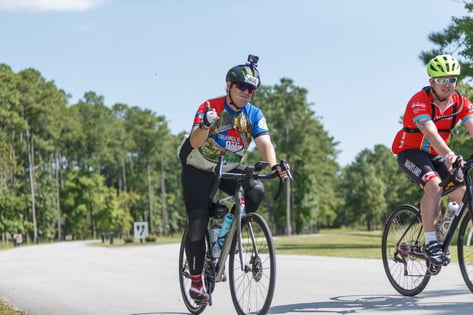 DJ (on the left) cycling in the New Bern Century - a Bike MS event.
What was the last TV show you binge watched?
"When I'm not seated on my bike, you may find me seated on the couch catching up on episodes of Re: Zero - Starting Life in Another World based on the Japanese novel series."
What's your favorite quote?
"If fate is a millstone, we are the grist. There is nothing we can do. So I wish for strength. If I cannot protect them from the wheel, then give me a strong blade, and enough strength to shatter fate." Tito Kubo
If You Could
What is currently #1 on your bucket list?
"At the top of my bucket list is a trip to visit Santiago de Compostela in Portugal – the capital of northwest Spain's Galicia region and best known for the Camino de Santiago pilgrimage route. Depending on the route you choose, the route can be from 170 to 400 miles long. I came close to checking this off my bucket list in 2012 during a work trip to Switzerland but I was unable to make the side-trip due to a rail strike."
If you could have dinner with anyone – dead or alive – who would it be and why?
"If I could have dinner with anyone it would definitely be Kentaro Miura, a Japanese Manga Artist, because I want to know how he originally planned on ending the "Berserk" animated series and how it compares to the current path."
What Others Say About DJ
"When I first met DJ, his intelligence, originality, and depth of knowledge both inside and outside of technical disciplines astounded me. As our working relationship has developed, I have observed how these traits, along with his sense of humor, open mind, and commitment to always support our clients and coworkers, make me feel lucky to be on the same team as him."
- Mike Ferguson, MetrumRG Vice President of Engineering